Feeling like an iPhone-ographer is not merely a brand addiction. Apple does make a distinctly great phone, which has been met by the enthusiasm of many image-making or image-manipulation apps.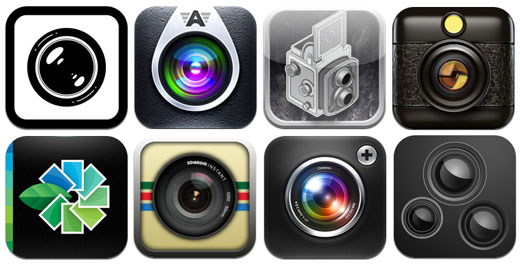 Rise of the Image
Culture people will talk about the dominance of pictures in modern societies, whereas many people's grandparents had been living in an oral culture. TV and film has had a big influence, of course.
And now, in the Future, the high-tech world in which we live, we are in a visual culture that is different and new because we're the makers. Also, our efforts with images somehow re-join oral culture, the culture of spoken words, because of the Internet.
Image + Internet
Let's not overlook the obvious possible symbology (if what we said above isn't off the mark) of having an excellent mobile camera mated with an excellent phone.
Even if we're not jabbering with it, the phone actually allows our images to talk, by going out into social networks or online galleries like Flickr. On our own end, of course, the many apps we can use turn this slick hand-held device into a kind of mobile virtual darkroom.
Just like the written word has undergone an amazing change by getting lifted, in a way, on the breezes of the Web, social networks, sms'ing or even the captions on photos.
The fun of writing on one's photos with a living graffiti has also emerged as very popular. So the same process of mobilization of the Word has happened to the Image.!
The Game of the Image
Since we now do not think of an image that we take as something static anymore (picture a Polaroid print), or chained to bulky equipment, an image becomes more like a moment that unlocks a whole stream of events.
Each photo we take as an iPhone-ographer is a living moment. As we do this for ourselves, some of our images strike a chord or look poignant somehow.
Those images are the start of a kind of light-hearted game that can evolve around each of them. The game includes:
· Posted online
· Comments made on the photo
· Captions
· Photo graffiti
· Tagging
· Submissions
Let's not forget that last one, because we are offered plenty of opportunities by today's big media outlets (hungry for great crowd-sourced content) to submit our photo-studies. Sometimes there is a contest, or a prize or recognition in a respected scene.
So you see that all of this, in some combination with each photo, turns out to be a game we're playing with the world around us — and our friends are also iPhone-ographers, or maybe even Android-ographers, too (bless their hearts).
And, funnily enough, that same camera-phone can also take us into a world of moving images, if you ever fancy a little excitement, post-iPhoneography. Have you seen the newest animated gag slot machines like South Park? Check out http://www.classycasinos.co.uk for the most reliable places to have a little unexpected fun.